Outline of the Research Center for Evidence-based Policy Making (HIAS EBPM)
Background
Japan is facing declining fertility and population aging at an unparalleled rate in the world, as well as government financial difficulties. As a result, there is now an unprecedented need to have a firm grasp of the current situation and ongoing policy issues in a timely and accurate manner, choose valid response measures, and assess their effectiveness. Amid rapid changes in the structure of Japan's economic society, policy makers need to actively utilize statistics and other data to promote evidence-based policy making (EBPM) in order to use limited resources efficiently and enhance the credibility of public administration among the people.
Against this backdrop, the Research Center for Evidenced-based Policy Making (HIAS EBPM) was established in December 2019 under the Hitotsubashi Institute for Advanced Study in an effort to build a university-wide research and education system to address the rapidly growing societal need for EBPM.
Objectives
As well as promoting EBPM research and education at Hitotsubashi University, the HIAS EBPM aims at enhancing collaboration with researchers and organizations involved with EBPM research and education both inside and outside the university.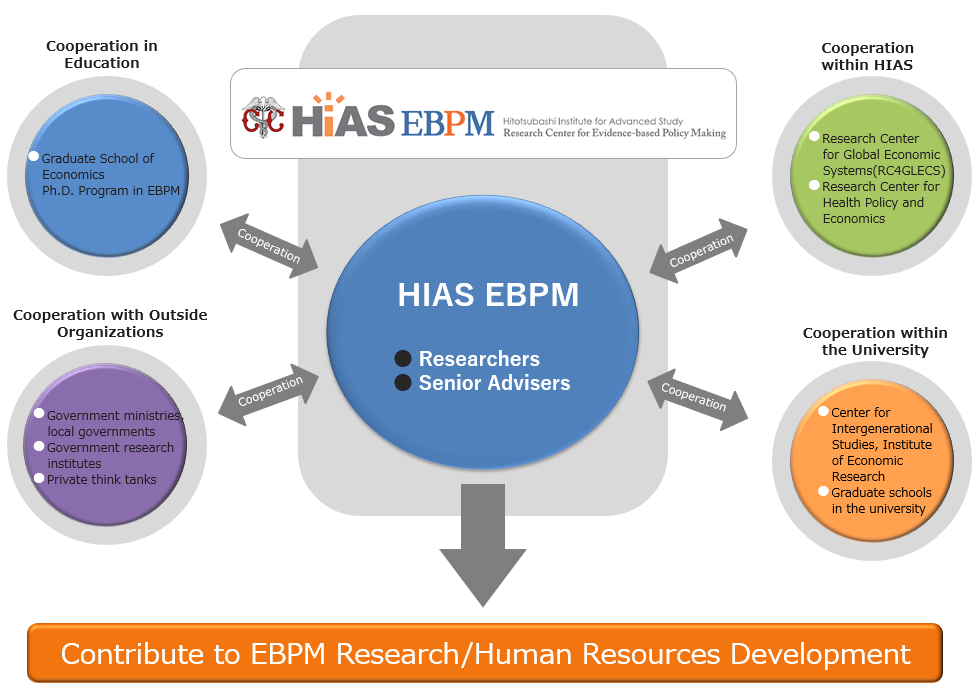 Goals
HIAS EBPM aims to become the most trusted policy think tank in Japan and to fully utilize top-level research assets in the world, both in terms of quality and quantity, in order to serve as the global hub of researchers of Japanese and Asian economies. Furthermore, based on our top-level research results, it aims to create advanced educational programs at the graduate level in cooperation with other organizations in order to foster human resources for the advancement of EBPM.
Activities
Organize EBPM-related research projects
Undertake study and research for the promotion of EBPM education
Cooperate with researchers and education and research organizations in Hitotsubashi University involved with EBPM
Cooperate with education and research organizations, government offices, private companies, and others outside the university
Publicize the achievements of the university's EBPM education and research efforts
Other activities necessary for the fulfillment of the Center's objectives